A few random thoughts for this brutally cold Tuesday.
Will ordered me a
Bump Nest
for my Valentine's Day gift, and it came in the mail yesterday. Sorry delivery man that our walk and driveway haven't been shoveled since the last, oh IDK, 5 snows. Oops… Anyhow, the Bump Nest is glorious. I slept like a baby, and it worked wonders for my knees, hips, and helping me stay on my side all night. I highly recommend it. And they sent me a cute little baby beanie!
My bed isn't in the middle of a field, but that is about how peacefully I slept last night.
Is it summer yet? At least spring? Something?
We've been looking into babymoon destinations, and I have to say, I'm pretty pumped about it. I wasn't sure if we'd be able to take enough time off of work this year to travel anywhere more than a few hours away, so I'd been looking into B&Bs in Lexington and Louisville. As fun and relaxing as that could be, I need a beach. At least a pool. Something. So we've decided to set our sites on Charleston, SC or Hilton Head, SC. I. Can. Not. Wait. On the agenda will be lots of relaxing, hopefully some pool and/or beach time, depending on weather when we decide to go, good food, and shopping. There are about a million hotel, resort, and B&B options in both of those cities, so let the research begin.
I posted a picture of a delicious doughnut (btw, not sure if it's doughnut or donut, but moving on) on Instagram yesterday. It was basically the happiest moment of my entire day. Then someone I am related to, who I never even talk to, decided to comment on how horrible the sugar was for my baby. That the ONE donut had a lot of sugar for something the size of a grain of rice, and I should avoid and sugar and soda in the first trimester, because it could cause a miscarriage.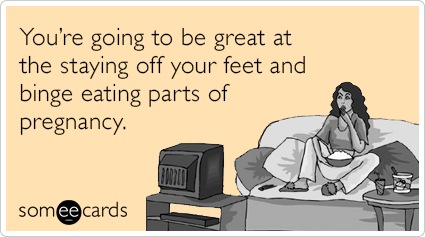 This is easily the most fired up I've been in a long time. One- I don't drink soda. Two- the baby is not the size of a grain of rice. Three- are you an obstetrician? A dietitian? I didn't think so. Note to the public: please do not give unsolicited diet and nutrition advise to any woman on Instagram, because she probably doesn't want it. Especially a pregnant woman. And especially when you have no clue what you're talking about.
Said picture has since been deleted to avoid any more stupid comments.
And on a more positive note, I love my job. And the fact that my job has a caf that serves me amazing breakfasts and lunches. And I love my husband. And our dogs. And my home. And my car. And a whole bunch of other things. They aren't prefect, or anything too out of the ordinary, but they are perfect for me. Feeling thankful today!