I recently saw a recipe on Pinterest that looked amazing enough to actually try.
Unfortunately, the recipe I pinned was a broken link. Fortunately, I found a similar recipe via good old Google, and it did not disappoint. I followed this recipe from damndelicious.net to a T, except for a few minor details.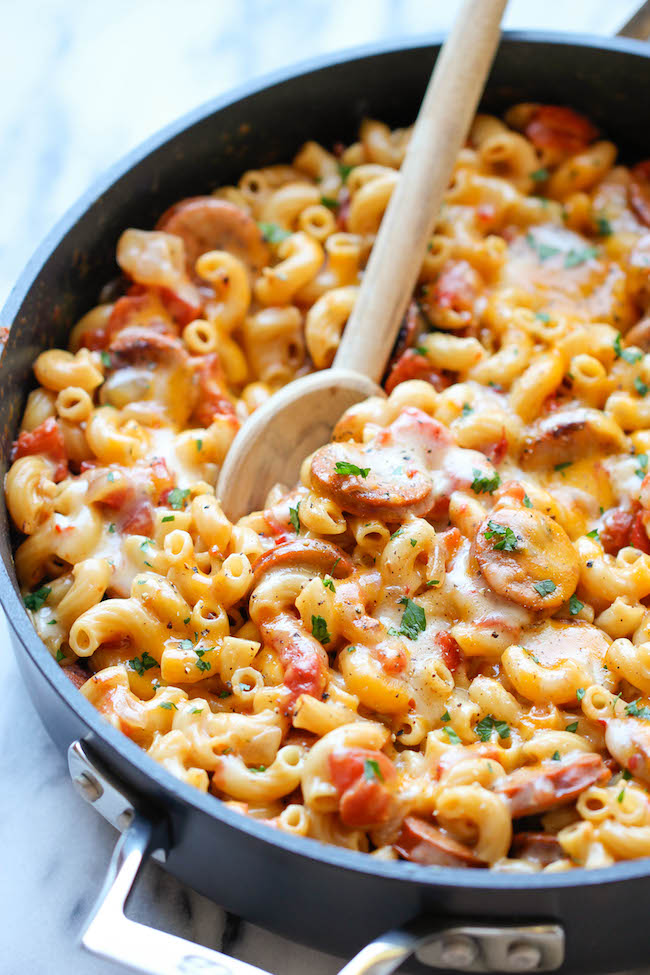 -I used shells instead of elbow macaroni
-Used mexican cheese blend as opposed to pepper jack
-My sausage was of the smoked turkey sausage variety.
I also could have probably lowered the cook time by a few minutes due to shells cooking a tiny bit faster than elbow macaroni.
All in all, it was a huge hit! This made enough for dinner for two, and plenty of left overs for two (smallish) lunches the next day. Even better, it only dirtied one pan, a few utensils, and a cutting board.
I already had two friends tell me on Instagram that they tried it because it looked so good, and the recipe was a hit in their homes as well. Enjoy!
1 package smoked sausage, thinly sliced
1. Heat olive oil in a large skillet over medium high heat.
2. Add garlic, onion, and sausage. Cook, stirring frequently, until sausage is lightly browned. About 3-4 minutes.
3. Stir in chicken broth, tomatoes, milk and past.
4. Season with salt and pepper to taste. Bring to a boil, cover, reduce heat, and summer until pasta is cooked. About 12 minutes.
5.
Remove from heat and top with cheese. Cover until cheese has melted, about 2 minutes.
Serve immediately.