Last night, or this morning really, I woke up at about 1am and just couldn't get back to sleep. I ended up being awake over two hours, and watching Juno from start to finish.
I had every intention of waking up at my normal time and trudging through the work day, using the exhaustion as practice for how I'll feel when baby comes. But I just couldn't do it. When the alarms went off this morning, it just wasn't happening. I emailed my boss that I was using one of the personal days I have saved for just this type of situation, and I picked the perfect day to stay home. It's cool enough outside to open the windows (my favorite, the birds are chirping, and I have plenty of food, fruit, and third trimester + raspberry leaf tea to keep me busy.
I also plan to use this day to tie up some final things on our baby to-do list. Some of our final outstanding items are:
1. Hanging the diaper bag hook in the laundry/craft room.
We have a very open floor plan on our first floor, so Will and I both go out of our way to make sure everything has a specific spot. If not, the whole house just starts to look cluttered. I picked up
this hook
from Anthropologie, and I think it will do nicely.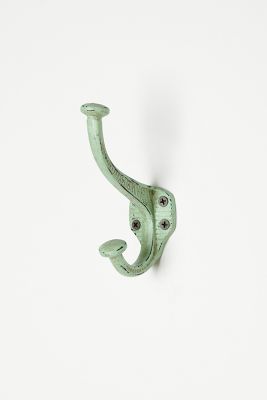 2. Calling UHC to figure out breast pump options.
Nowadays insurance covers electric breast pumps at no cost to the mothers. I was thrilled to hear this news, as I really didn't want to drop a few hundred dollars for something I may or may not use very often. I've got the prescription from my OB, now I just need to find out which pumps/stores are covered by my insurance, and we'll be in business. I also purchased a single, hand pump to keep in the diaper bag. I plan to use this for travel and emergency pumping situations.
I plan to exclusively breastfeed as long as possible, and hope to make it to at least six months. I also do not want to kid myself in thinking that I want to be tied to my baby 100% of the time. I already love Norah more than I thought humanly possibly, but being home that much just isn't for me. Enter pumping. I want to be able to leave bottles with babysitters, or have Will participate in bedtime, without me having to be present every time she's hungry.
3. Meal planning
I really need to sit down and plan a good 10-15 dinners to prep and freeze for after Norah is born. I get super anxious when I feel like we don't have decent dinner options and have to resort to fast food, and I do not want to be in that place when baby arrives.
My Mom will be staying with us about a week, so we are covered at least that long. She also is going to prep a ton of meals for us to freeze, so that will be a huge help. We'll also have Will's parents just down the road to help if we need dinner, but I want to be over prepared.
I know I will prepare a few pastas and soups, but I am really drawing a blank as far as what other meals freeze well. Any ideas/suggestions on what your go to freezer meals are are much appreciated!
4. Having the carseat checked out by the fire dept.
This one is pretty self explanatory. We installed it on Sunday, so just need to make sure it's done correctly. It's so weird driving around with a car seat in the back, but weird in the most awesome exciting way. I cannot believe I'll be toting her around sooner rather than later.
5. Final nursery order.
There is an
adorable cross
(below) that we want to order for Norah's room, so I will probably be pulling the trigger on that today. We actually have the same one in our room (but of a little boy, not girl) that Will has had since he was a baby. I also hope to find a mirror, and possibly one more shelf. Maybe some prints? We shall see!
And that's all she wrote. Here's to surprise days off during the week.