This weekend was rather low key. Friday we were both exhausted from the work week, so we just took it easy on the couch and caught up on some of our shows. Saturday I cleaned a bit (not nearly enough) and Will went to the UC game with his Dad. Later in the afternoon I met up with some friends at
Unwind
. It was just as cute as I'd imagined and the drinks and food were excellent. I will definitely be back! I met up with Will and some friends to hang out for the rest of the night, and Sunday we did absolutely
nothing
.
Sometimes I feel guilty for "waisting" a day, but this week, it was just right. I did manage to make some chicken and rice soup, and pin at least 100 items. We're having a Christmas party, all the holiday sales are about to start, I will need to buy a lot of new christmas decorations this year, we need to plan a vacation, and I was glued to the couch all weekend = Pinterest crazy.
Follow here
to see the full extent of my damage. I also wanted to share a few of my favorites.
This fits my personality so well. I will be ordering it immediately.
Has anyone ever shopped on
urbanog
? I've had this pin saved for a while, but I'm afraid to buy anything because the prices are just too low for something not to be up. I am in desperate need for black boots, but I don't think I'd wear them that much, so I may just bite the bullet and order.
No explanation needed, this is just too cute not to own for someone like me who loves all things pink. Will broke his back pack toward the end of grad school and never replaced it. I would be happy to pass my all black North Face back pack along to him so I have an excuse to buy this. I may or may not have owned the black one for like 6 years… but it's still in good shape, and guys don't care? Right? right.
Again with the pink.
Victoria's Secret
Preface: this is not my hand, obviously. Random fact about my engagement ring and wedding bands: they're Tacori. My freshman year of college I saw THE most beautiful Tacori ring in a magazine. I ripped out the page, stuck it to my wall, and was determined to have one someday. I threw the page out after moving out of campus housing at the end of that year, and never gave is another thought. When Will and I started to look at rings together so he could get an idea of what I liked, the memory came back to me, and the rest is history. I looked at a few other jewelry designers and nothing compared. I'm not a big jewelry wearer, so I knew I wanted something delicate but still blingish for my wedding band. And that is just what I got. Anyhow, I've seen
pictures like this
floating around Pinterest and I'm in love.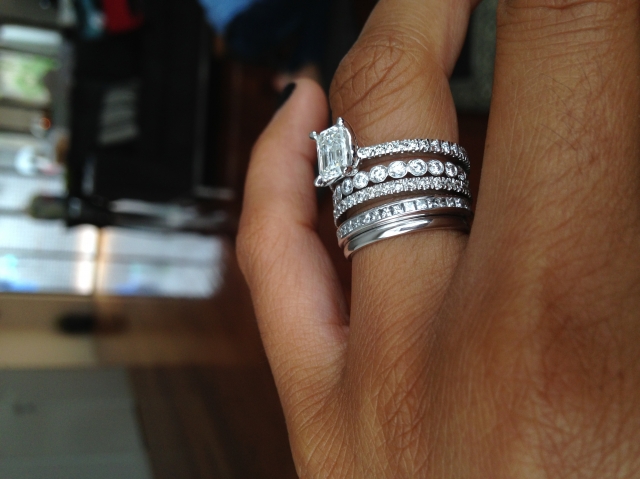 My ring is very similar to the middle one on this girl's finger, IDK that I could rock 5 rings at a time, but I've already started eyeing some of these unique bands for our "big" anniversaries down the road. I can dream, right?! LOVE the stacked look. These are two of my favorites, both the same designer as my other rings.
And there you have it. My favorite pins from the week. There were a ton more Christmas decor ones I could share, but that may be a post on its own. How was your weekend? Happy Monday!