I am loving A LOT this week.
1. My new life change. See
this
post.
2. This weather. Am I afraid it's going to be so horrifically hot by mid summer I won't be able to leave the house? Oui. But still enjoying the 80 degree temps in March!
3. William. I am always thankful for him, but especially today. He is so supportive of anything and everything I want to do with my life, with our relationship, anything. That is something I hope everyone one day finds.
4. MARCH MADNESS!!!!
Lets talk about this. There are many reasons I am super into MM this year.
First of all, GO CATS! Not Wildcats, BEARCATS! This is my alma mater and I am BEYOND excited we are in the Sweet 16 and FINALLY getting recognition for all the great athletics that go on in Cinci. Yes, "the incident" may have clouded a few peoples opinions of us, but I am proud none the less.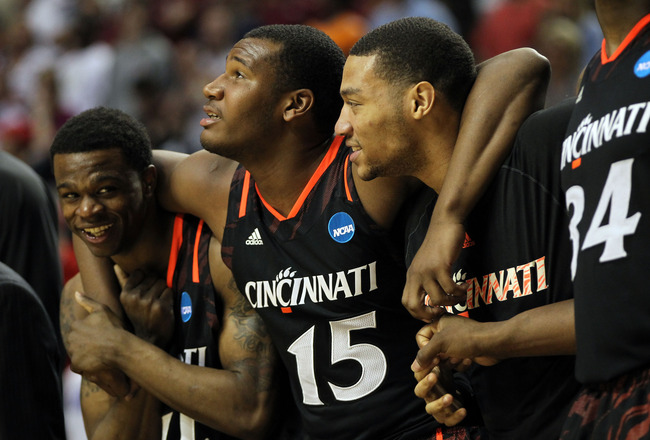 Next, I will give the Wildcats credit where credit is due, because the Tri State is kicking some March Madness ass. UK, Louisville, Indiana U, University of Cinci, Xavier, Ohio University AND Ohio State, all in the Sweet 16. Not to mention FOUR of those teams are from the OH.
FIRST TIME IN NCAA HISTORY. I am a proud Ohio girl right now.
5. The Hunger Games. Thursday is a great day for me entertainment wise. Around 9 we have UC vs OSU. A matchup that a certain school has been avoiding for YEARS *couch* OSU *cough*.

Then at midnight, I get to see Katniss kick some ass.
6. My Mom. Especially fitting because today is her Birthday! This picture was taken in 2009 but she looks the exact same way now, I swear. Here's to me looking half as good at almost 50. She is the most beautiful, supportive person in the world. Happy Birthday Momma J!
This is a throwback. My hair. My jeans. Painful. Mom looking super '90s and my Grandma pulling off an ensemble only an old German lady could. HILARIOUS.
Sadly, it has been almost 10 years since life has allowed us to reside in the same state. If your mom is close by, don't take it for granted! Thank God for cell phones.
I will stop there. So much more to be thankful for, the list could go on. Feeling blessed.

-Brittany