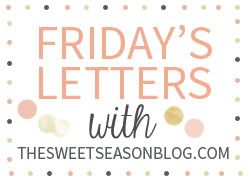 I'll keep this short and sweet. A few things I wanted to confess with
Leslie
.
I confess
I have spent way too much time looking at home builder's websites. It's so addicting. Fingers crossed that we can meet with my current top pick this weekend, and come home with some more hope.
I confess
I am THIS close to wanting to replace my realtor. Is he doing anything wrong? Probably not. Do I feel like we should have more movement on the house? Absolutely.
Now on to two amazing little discoveries I think everyone should know about.
Dear Buzzfeed,
Oh my sweet, sweet,
BuzzFeed
. Your website has brought me more laughs than I ever thought possible. Thank you for not only cracking me up on a daily basis and helping me get through the work day, but allowing me to relive my childhood. You fill a void I didn't even know was there. If
this post
and
this section
don't move you in some way, then we can probably never be friends. Seriously, it will make your day. And take you back to much
better
simpler times.
Dear Beer Providing Video Game,
Where have you been all my life? Have you people heard of the
The Last Bar Fighter
? Apparently there's an arcade game out there that skips the tickets when you win, and instead fills up your beer. I'm still sketchy on the details, but if they're telling me what I think they're telling me, things just got real.
Dear Friday,
As always, you are so so good to me. Just a matter of hours separating me from pure happiness, aka, the weekend. And my besties birthday celebration.

Happy Weekend!